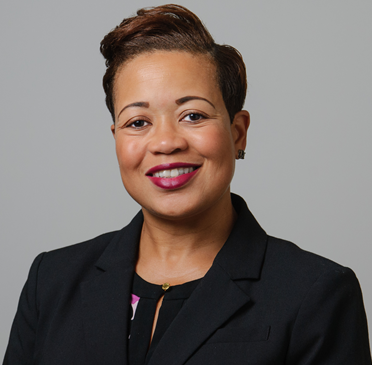 MIP's Courage-In-Conversations is an opportunity for professionals and business leaders to engage in dynamic discussions about race, ethnicity, diversity, equity, and inclusion. The discussion will challenge current practices and foster improvement and growth through conversation, listening to and acting on feedback, and providing feedback that will lead to improvements in diversity and inclusive excellence. During the networking portion and the discussion, individuals are encouraged to express their views openly and truthfully, rather than defensively or with the purpose of laying blame.
Join us on April 21 with Joelle Murchison, Associate Vice President and Chief Diversity Officer at The University of Connecticut, for a conversation about Strategies for Achieving Diversity on Nonprofit Boards.
Joelle A. Murchison is the Associate Vice President and Chief Diversity Officer at The University of Connecticut.  Reporting directly to the president, Susan Herbst, Joelle serves as the University's main strategist responsible for guiding efforts to define, assess, and promote diversity, inclusion, and educational and employment access and opportunity. 
Prior to joining UCONN, Joelle served as Vice President, Enterprise Diversity & Inclusion at The Travelers Companies, Inc. (Travelers) where in partnership with management, she developed the framework of the company's diversity& inclusion focus and led the execution of Travelers' diversity & inclusion strategy.
Joelle is a lifetime member of Delta Sigma Theta Sorority Incorporated and the National Black MBA Association and a member of Faith Congregational Church, UCC. She previously served 2 terms on the board of directors of Leadership Greater Hartford and spent 10 years as a diversity trainer with the Anti Defamation League's A World of Difference Institute. Joelle is the recipient of numerous awards including most recently, the Hall of Fame Award from the Women in Business Summit.
Additionally, Joelle serves as a director/trustee on the boards of the Morgan State University Foundation, the Amistad Center for Art and Culture (Hartford, CT) and College Possible, a national nonprofit focused on college access.
A native of Queens and Long Island, NY, Joelle holds a bachelor's degree in public policy and educational studies from Brown University, a master's of education degree from Harvard University's Graduate School of Education and a master's of science degree in Communication Management from Syracuse University.
She lives in Connecticut with her family, including her four children, Kendall, Savannah, Caleb and Ravynn, who are the wind beneath her wings.
Tickets are $25 per person. REGISTRATION is required.